Become a BCBA ...
Full Degree Title: Applied Behavior Analysis Graduate Certificate
---
An 18-hour, online/campus-based program meeting requirements for national BCBA certification and leading to eligibility to sit for the national BCBA examination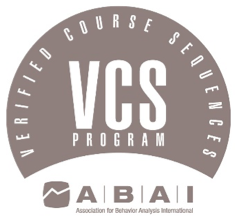 The College of Education proudly hosts the nationally accredited Board Certified Behavior Analyst (BCBA) program.
Due to great demand for part-time and full-time BCBAs, who are sought by schools and agencies throughout the U.S. and worldwide, our College presents the BCBA program to prepare behavior experts who provide the needed assistance in our state. If you are a professional who assists individuals who have behavioral concerns, or for school personnel who provide instruction and guidance directly to children in inclusive settings, this program supports your knowledge, understanding, and implementing research-driven strategies that improve the quality of life of children and families.
Applied Behavior Analysis is a well-developed discipline among the helping professions, with a mature body of scientific knowledge, established standards for evidence-based practice, distinct methods of service, recognized experience and educational requirements for practice, and identified sources of requisite education in universities (BACB, 2014).
BCBA therapists are practitioners with behavior intervention expertise who…
are licensed to conduct descriptive and systematic behavioral assessments, including functional analyses, and provide behavior analytic interpretations of results
design and supervise behavior analytic interventions
effectively develop and implement appropriate assessment and intervention methods for use in unfamiliar situations and for a range of cases
also may work as independent contractors for organizations
teach others to carry out ethical and effective behavior analytic interventions based on published research and designs
can deliver instruction in behavior analysis
supervise the work of Board Certified Assistant Behavior Analysts and others who implement behavior analytic interventions
The Behavior Analyst Certification Board®, Inc. (BACB®) - a nonprofit 501(c)(3) corporation established to meet professional credentialing needs identified by behavior analysts, governments, and consumers of behavior analysis services - adheres to international standards that grant professional credentials. BACB certification procedures and content undergo regular psychometric review and validation, per standards established by content experts in the field. The Behavior Analyst Certification Board's BCBA credentialing program is accredited by the National Commission for Certifying Agencies in Washington, DC.