Advance Scholarship and Practice in STEM, Education, and the Humanities
Full Degree Title: Doctor of Education in Educational Practice
---
A three-year, campus-based, cohort program emphasizing STEM innovative education, research, and theory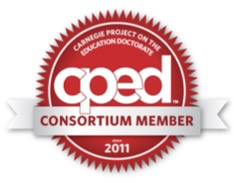 The STEAM THEMES Education Scholars (Technology-Humanities-Engineering-Math-Education-Science) is a collegial community of practice committed to creating, establishing and assessing innovative STEAM education research and theory and incorporating it into effective interdisciplinary practice. The advantage of the cooperative approach to doctoral research in education is that professionals have an opportunity to work together collaboratively with peers to pursue the highest graduate degree in education, the Ed.D. Participants selected for the cohort will support each other in course work, dissertation research, and in developing a collegial network of professionals that will encourage and facilitate the attainment of career goals.
The central dogma of STEAM THEMES is that developing and releasing the synergistic power of an interdisciplinary approach to STEAM teaching and learning will have positive effects on learners and educators. The STEAM THEMES cooperative approach to doctoral research and programs fosters learning and investigation into twelve general areas of inquiry:
Defining, developing, and promoting interdisciplinary STEAM curricula
Adopting experiential/real life problem-based learning approaches in STEAM related instruction
Developing and assessing instructional strategies and methodology for professional development
Establishing effective formative and summative assessment strategies for enhancing STEAM curriculum
Developing and/or assessing STEAM instructional technology materials and methods
Documenting history of STEAM education movements and their implications
Encouraging and facilitating choice of STEAM careers, developing pipeline strategies
Establishing and testing data-driven and evidence-based evaluation
Exploring mechanisms to enhance STEAM literacy
Motivating learners and/or educators as related to STEAM teaching and learning
Providing access to equity and inclusion in STEAM related fields and endeavors
Developing and assessing promotional materials and strategies for STEAM instruction
Assessing administrative strategies for supporting and enhancing STEAM initiatives
The STEAM THEMES Learning Community of Practice allows research and dissertation topics in the areas of Technology, Humanities, Engineering, Math, Education and Science as long as the underlying question(s) deals with, contributes to and promotes the understanding and enhancement of issues surrounding the teaching and learning of the STEAM disciplines.
We invite you to become part of the STEAM THEMES Learning Community of Practice by completing an application and joining the scholars pursuing one or more of the twelve issues concerning science and mathematics education, helping to form and support a group of colleagues mutually interested in any of these teaching and learning issues as you pursue the doctorate in education. Working together we can make a significant impact on science and math literacy among all students of all ages and the citizenry in general.