Full Degree Title: Doctor of Education, emphasis in Educational Practice
---
A three-year, online, cohort program emphasizing sustainability, social justice, and participatory culture beginning in Fall 2022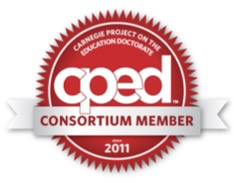 The Heritage Leadership Learning Community engages students in serious discussion of topics related to sustainability, social justice and participatory culture. Heritage refers to natural and cultural heritage. Modern society has a rich inheritance in the natural world. Unfortunately, climate change and related system-level shifts threaten the ecosystem services upon which we all depend. Similarly, some argue that cultural diversity is now as endangered as biological diversity.
It takes heritage leadership to sustain the natural systems that sustain us
It takes heritage leadership to sustain cultural landscapes, including those places where we encounter "the other"
Heritage leaders reveal the essential unity of nature and culture, highlighting the pathologic that emerges when we relegate these interdependent phenomena to isolated spheres. Heritage leaders foster diverse knowledge structures, societal values, and engagement pathways. If participants engaged in a heritage leadership learning community ask essentially questions, generate useful models, and refine the scope and methods of effective practice, they can safeguard and even enliven heritage.
Heritage leaders should be adept at helping audiences share personal experiences, explore patterns and linkages, and examine underlying mechanisms. Advocates for social justice have long recognized the link between social justice and environmental equity (i.e., equal opportunity to obtain environmental benefits and equal protection from environmental harms). Similarly, scholars have identified parallels between how we treat our most vulnerable citizens and how we treat the natural world. Ecology is complex, but human ecology is even more complex. Thus, heritage leaders should be able to facilitate an examination of such topics as bias, privilege, the intended and unintended effects of economic and governance systems, racism and other "isms," historic trauma, oppression, modern day slavery, symbolic meanings and interactions, ecological aesthetics, a land ethic, voice, agency, culpability, reparation, reconciliation, and healing truth.
Practitioner-leaders from diverse informal education sectors should ask this question before applying and enrolling: Do I want to gain competence and capacity to address sustainability, social justice, and participatory culture at my site, in my organization, in my local community, and through networking and partnerships, at the national and global level? If the answer to this question is yes, and especially if you can pinpoint instances when you have addressed these challenges in your professional practice, this learning community will be a good fit for you!
For more information about the topic of this community, click on the Key Faculty tab below. For information about applying, contact the program director.