Impact the Future of College Access and Student Services
Full Degree Title: Doctor of Education in Educational Practice
---
A three-year, distance learning, cohort program emphasizing college access, student services, and higher education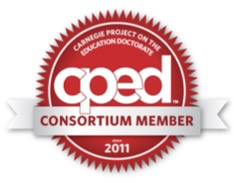 The College Access/Career Readiness and Student Support Services in Higher Education Learning Community is a distance learning program [100% online] that is committed to student immersion in high-impact educational practice. We will explore systems thinking, strategic planning, leadership, collaboration strategies and more to understand the intersectionality among these components and their impact on sense-making within educational institutions. These efforts contribute to the development of philosophical ideologies that shape organizational identity, culture and institutional priorities. Deepening our understanding of the interaction among such organizational efforts will inform our work as we contemplate the philosophical underpinnings that serve as the foundation for the student services profession and promoting student success in educational institutions.
We will specifically explore how organizational ideologies, institutional priorities and culture impact college access and student services in K-12 and postsecondary institutions. Holistic student support and promoting student success is at the core of the mission of all educational institutions. A unique and dynamic synergism will be operationalized if all educational systems are aligned to support the work and collaboration of practitioner professionals across all educational systems who advocate for student support and success.
There will be a targeted emphasis on an interconnected systems approach relative to K-12 and postsecondary educational systems and academic and student affairs professionals, as well as pre-collegiate preparation, student support services and college access/transition, equity and affordability. If you are a Practitioner-Leader who would like to enhance your career as an educational professional to solve organizational issues that impact student success and the student services professional, you have arrived!
Who should apply?
Current and aspiring practitioners who are interested in a staff position, middle-level management or an executive role in 2- and 4- year colleges and universities and/or have an interest in college access; and
K-12 practitioners interested in pre-collegiate preparation and college access for K-12 students who will pursue postsecondary education attainment
NOTE: Administrative certification is not affiliated with this program.