Full Degree Title: Doctor of Education in Educational Practice
---
A three-year, online cohort program emphasizing educational leadership, development of school-wide systems of character education, and civil dialogue.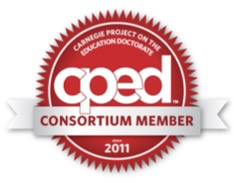 Have you ever asked yourself any of these questions?
What does it mean to "educate the whole child"?
What does it mean to be a "virtuous" individual?
What ideally characterizes a citizen in a democratic republic?
How do we promote respectful dialogue on difficult issues?
How can school leaders build ethical learning communities?
What does it mean to be a servant leader?
How do you shape school culture?
How can I make a difference in the lives of students?
If so, you are in good company. These are questions educators have been wrestling with for thousands of years and they are questions we have been exploring at UMSL and the Center for Character and Citizenship Education for decades. Building on this research, Dr. Marvin W. Berkowitz, the Sanford N. McDonnell Endowed Professor of Character Education and Co-Director of the Center for Character and Citizenship Education at UMSL, released PRIMED for Character Education: Six Design Principles for School Improvement in 2021. His book provides a framework for building schools that don't just say they educate the "whole child," but schools that actually do it. It is a framework we use in this program for better understanding of how to build ethical learning communities.
In this doctoral program, you will join a cohort of like-minded individuals who believe the purpose of education is more than just teaching students to read, write, and calculate. It is about helping students become their best selves, an ethical human being.
The Educational Leadership Learning Community is designed for educators who want to engage with colleagues and take a deep-dive into the development of school-wide systems of character education. Participants in this program will develop the skills and dispositions necessary to be an effective leader of an educational organization that promotes the comprehensive development and learning of all its stakeholders.
This program is not aligned to state certification standards. Individuals seeking either principal or superintendent certification would be wise to explore our M.Ed. and Ed.S. offerings in educational administration. Students who currently hold administrative or leadership degrees are strongly encouraged to apply, though all students who possess a master's degree and are interested in Educational Leadership for Character and Citizenship will be considered.