Timothy Makubuya, Ph.D.
Assistant Professor
Department of Educator Preparation and Leadership
Timothy Makubuya, Ph.D., is an Assistant Professor and Interim Program Coordinator for Sport Management. He earned his Ph.D. from University of Missouri- St. Louis.
He is a member of American College of Sports Medicine (ACSM)'s Leadership and Diversity Training Program. Dr. Makubuya has authored journal articles and presented at International Conferences on the topics of youth health behaviors, physical activity, and sports injuries. Dr. Makubuya's research interests are in sports nutrition and supplementation, sports injury prevention, youth risk behaviors, health literacy, athletic and academic performance.
Education
B.A. Environmental Management- Makerere University, Kampala, Uganda
B.S. Sports Medicine- Missouri Baptist University, St. Louis, Missouri
M.S. Sport Management- Missouri Baptist University, St. Louis, Missouri
Ph.D. Education- University of Missouri- St. Louis, St. Louis, Missouri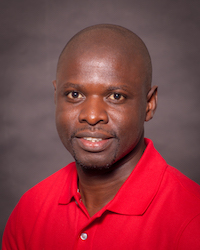 e-mail
phone
(314) 516-7311
office
364 Marillac Hall