Thomas J. Loughrey, Ph.D.
Associate Professor
Department of Educator Preparation, Innovation and Research
Following more than 40 years of educational service, Tom Loughrey continues to be heavily involved in curriculum development efforts in the teaching fields of Health and Physical Education , at the local, state, and national levels. Currently in his thirtieth year of service to the University of Missouri-St. Louis, he consults with schools and school districts and assists with program development projects and teacher improvement projects. During the past 15 years, he has led long-term consulting curriculum development projects in the Parkway, Ferguson-Florissant, Brentwood, and Clayton school districts and the Mary Institute Country Day School. The Health Education curriculum developed for the Ferguson-Florissant School District was recognized by Metropolitan Life Insurance as one of the Top 20 Health Education programs in America. He additionally served for five years as a Program Consultant to the DESE Goals 2000 Project for Health and Physical Education.
At the national level, Dr. Loughrey developed and chaired two national conferences, one on Curriculum Development in Physical Education and one on Teacher Preparation in Physical Education. For a six-year period, he served on the Blue Ribbon committee of the National Association for Sport and Physical Education's Physical Education Outcomes Project committee, helping to write the document upon which the National Standards were adopted. He also chaired the 3,500 member Curriculum and Instruction Academy of NASPE, served on the Board of Directors of NASPE, and served on the Publications Committee and Youth Fitness Advisory Committee for the American Alliance for Health, Physical Education, Recreation, and Dance (AAHPERD). He has presented papers at a number of regional and national conferences, most recently at state conferences and institutes in New England.
Internationally, Dr. Loughrey has conducted teacher workshops and institutes in Taiwan, presented papers and served as the keynote speaker at an Asian conference entitled Physical Education in the 21st Century, presented papers at an international conference in England, and attended the Pre-Olympic Scientific Symposium prior to the Olympic Games in Seoul, Korea.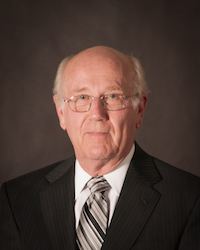 e-mail
phone
(314) 516-5216
office
239 Mark Twain Bldg.