Sandra I. Diamond
Program Director
Center for Character and Citizenship
Sandy Diamond is Program Director for Kids Voting Missouri—a national non-partisan youth voter education program and MY LOGO—Missouri Youth Engaged in Local Government. Both programs are administered by the University of Missouri-St. Louis (UMSL) College of Education through its Citizenship Education Clearing House (CECH) and are under the guidance Dr. Wolfgang Althof. Dr. Althof is the Teresa M. Fischer Endowed Professor of Citizenship Education and also co-director of UMSL's Center for Character and Citizenship.
As Program Director of Kids Voting Missouri, Sandy works with local school districts to educate K-12 students about their civic responsibilities, including registering and voting. In almost 14 years directing Kids Voting Missouri, Diamond has helped more than 1 million students learn about active citizenship. Kids Voting Missouri is an affiliate of Kids Voting USA, a national non-profit, non-partisan organization that strives to help students become educated, engaged citizens.
Diamond is also the Program Director for MY LOGO--Missouri Youth Engaged in Local Government. MY LOGO, inspires students throughout Missouri to learn about local government, identify community problems, and create action plans to solve those problems. Many MY LOGO Students showcase their findings in a spring Projects Fair. Others attend "Local Government Issues Forums" to discuss local issues of the day. MY LOGO works in partnership with participating schools local government officials.
Sandy received her B.S. in Secondary Education from the University of Missouri-Columbia in 1969 and her M.Ed. in Secondary Education from the University of Missouri-St. Louis in 1973. Diamond has a life-time secondary teaching certificate in social studies.
Prior to joining UMSL in 1999, Diamond served as Newspapers in Education (NIE) Coordinator for the St. Louis Post-Dispatch, taught Civics in the Hazelwood School District and was an Account Manager for United Healthcare of the Midwest. During her forty four year career, Diamond has presented at numerous local, state, and national conferences, including the National Council for the Social Studies (NCSS), Missouri Council for the Social Studies (MCSS), Missouri Gifted Association (GAM), and the International City Manager's Association (ICMA). These presentations provide educators with creative ideas on how to incorporate voting and local government education into their daily curriculums.
In 2000, Sandy was recognized by former UMSL Chancellor Blanche Touhill for her contributions of "creativity, energy, and leadership…in the area of civic education." Diamond and Kids Voting Missouri were again recognized in 2010 when they were the recipients of one of the Spirit of Justice Awards given from the St. Louis Bar Foundation. In addition, in 2006 Diamond received the Missouri Bar's Warren H. Solomon Award for Civic Virtue. During that same year, Diamond was recognized by Kids Voting USA and received their Barbara Erickson, Program of Excellence Award.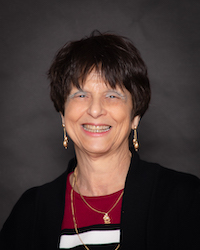 e-mail
phone
(314) 516-6823
office
464 Marillac Hall