Angela D. Coker, Ph.D.
Associate Professor
Coordinator of the Clinical Mental Health Counseling Program
Department of Education Sciences and Professional Programs
Angela D. Coker, Ph.D., LPC, NCC, is an Associate Professor of Counseling and Family Therapy and a Faculty Affiliate in the Gender Studies Program at UMSL. Her areas of scholarship include women's issues, group work, and the internationalization of counseling. She is the author of numerous publications and professional presentations. Dr. Coker is a 2011 Fulbright-Hays scholar who has examined cultural diversity in Brazil. In 2013 she served as a sabbaticant in the Dept. of Educational Foundations at the Univ. of Botswana. There she examined how culture impacted the practice of counseling in Botswana. She has also provided professional development training for UNICEF (Botswana), community outreach to homeless shelters in Namibia, and served as a Visiting Scholar at the Univ. of the Western Cape in South Africa. She currently serves as a Fellow in the Office of International Studies and Programs at UMSL, and an Ambassador for the International Registry of Counsellor Education Programs. Mostly recently she was in Accra, Ghana conducting research interviews and explored the nature of counseling in the region. She has taught in higher education for over 15 years and received several honors including UMSL's 2015 Trailblazer Award, the Association for Specialists in Group Work's 2015 Group Practice Award, the NCACES 2007 Outstanding Professional Teaching Award, and the 2007 Gerald and Deanne Gitner Excellence in Teaching Award from UMSL.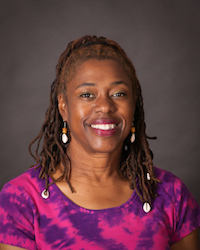 e-mail
phone
(314) 516-6088
office
456 Marillac Hall