Specialize in Early Learning
Full Degree Title: Master of Education in Elementary Education, emphasis in Early Childhood
---
A 30-hour, online program for educators, directors, researchers, consultants, business owners, and curriculum developers in early childhood settings and agencies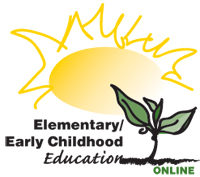 What professional questions might be worth exploring with other inquiry oriented educators from all over the world? An ONLINE Masters degree in Elementary Education (M.Ed. in ELED) with an emphasis in Early Childhood at the University of Missouri -St. Louis is a journey into cultural intelligence, reflective practice-in-action, and child advocacy as Early Childhood leaders. Five core curricular courses plus six courses in early childhood provide essential knowledge and experiences drawn from current research and practice in the field of early childhood education. This 33 hour M.Ed. program prepares graduates with the tools to think more complexly about early learning processes and systems. Focus areas include the following:
Meeting the needs of diverse learners
Social justice and community contexts
Creative technology integration for learning
Exploring a global world to broaden teaching horizons
Action Research cycle to improve professional practice
The Masters degree in Elementary Education with an emphasis in Early Childhood is an online degree program. Candidates are able to gain access to the University of Missouri St. Louis' high quality education program in an online format to meet your need for convenience and flexibility. Completion of this program allows candidates to continue or pursue careers as educators, directors, program planners, curriculum developers in various early childhood settings, small business owners, researchers, and consultants. We seek to foster individuals who care deeply about children and families and seek to nurture the greatest human potential in each learner.