This learning community is currently in-progress. Check back here for upcoming offerings.
Develop Knowledge and Approaches to Serve as a Leader in Your Community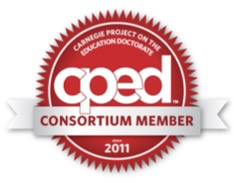 The Leadership Learning Community will begin study in 2015. This community would be of interest to those in, or working to be in, positions of leadership. These positions might be formal (superintendent, principal) or informal. Leadership requires multi-faceted knowledge and skills and our curriculum responds to that need. Our emphasis is on thoughtful and effective leaders who can solve complex problems of practice. The program and its learning community format prepares individuals to be effective leaders in their organizations who can work with stakeholders to implement innovative programs. Individuals also prepare to be change agents responsive to issues of social justice within their organizations.
In anticipation of a large response to this invitation to apply, with sufficient interest we will offer three themes:
Educational Leadership Management and Entrepreneurship - Increasingly, educational leaders must be well versed in business administration as well as educational administration. Moreover, educational leadership today means much more than being a principal or a superintendent. In addition to those important roles, educational leaders may: start charter schools, create an educational non-profit, become a consultant, work in state agencies, or help develop future educators. This learning community will provide candidates with the knowledge base to step into any of these roles. Students will gain expertise in leadership, systems thinking, finance, human resources, and organizational change.
Leadership for Social Justice - Individuals interested in improving equitable school access AND outcomes for all are invited to apply for this new learning community. This description could include educators, community agency workers, human resource employees, and many others. The leadership team for the LSJ learning community includes tenured, tenure-track, and endowed professors along with working administrators in local school districts. This EdD community interested in LSJ will draw impetus from a myriad of questions and concerns arising from the "Ferguson Moment." As we enter 2015, important discussions, organizing, and activities are occurring with the rallying cry "lives matter." Perhaps nowhere is this more important than in educational settings – whether school-based or not – in which concerns for humanity are being marginalized by calls for efficiency and accountability. Importantly, our common interest in social justice will include concerns over oppression and privilege in a variety of contexts: race, class, gender, sexuality, disability, and more.
School Leaders - This community is specifically for school leaders who are interested in "cage-busting" leadership and the examination of school-based systems in new ways. We will engage in building a model for design thinking in education EXPLORING existing systems that are in need of change, engaging community members from across disciplines to help us ENVISION what new systems could look like, and then support you as you ENACT these new practices and systems in your school or organization. In the course of this 3-year process, leaders will have an opportunity to re-invent their schools, their systems and processes, and develop new ways of supporting student learning.